Coachwest offers a broad selection of Federal Coach limousines, and we aim to provide the perfect vehicle for your service or corporation. Our funeral cars for sale are of the highest quality, and whether you're looking for a traditional hearse or a multi-purpose limo van, you're bound to find it here at Coachwest.
Selecting the perfect vehicle for your needs can be a difficult task, but Coachwest likes to make it easy with our selection of funeral cars for sale. Go traditional with one of our stylish hearse designs. You can't go wrong with these sleek and spacious models.
If you want a more modern feel, take a look at our selection of First Call Vans and funeral coach conversions. With the sleek design of a Caravan or Town & Country, these versatile funeral vans function as hearses but also serve your traditional transportation needs.
Coachwest Selection of Funeral Cars for Sale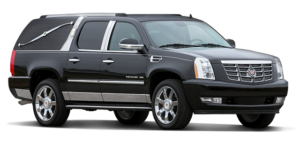 SUV Funeral Coach Conversions
If you like our Caravan and Town & Country funeral vans but want something even more modern and stylish, look no further than our SUV Funeral Coach Conversions. We combine the comfort and space of an SUV with the functionality of a hearse.

Cadillac XTS Renaissance
More and more often loved ones are turning to the calming influence of white when looking for a hearse. Add to this the quality and style of the Cadillac XTS Renaissance, and you have a funeral car for the modern family.

Cadillac XTS Raised Roof 70
Funerals bring emotion and mourning, and families don't need any more on their minds. Of the funeral cars for sale on the market today, few offer the reliability and lasting value of Cadillac limousines. Don't get caught with a limousine that won't last, and avoid any added grief by ensuring loved ones get to and from the funeral without the least bit of worry.

Cadillac XTS 48 Raised Roof
With the look, feel, and comfort Cadillac is known for, the Cadillac XTS 48 is sure to bring families a relaxed, comfortable ride to their loved one's final resting place.

Chrysler Town & Country First Call Van
If you want versatility and functionality, this van is for you. If you need to transport chairs or staff to the funeral, you can easily remove the landau panels and casket floor.

Dodge Grand Caravan First Call Van
Our Dodge Grand Caravan First Call Vans work for any situation that might arise. Transport flowers or a crew by removing the casket floor or pulling out the Stow & Go seating.

Lincoln MKT Eaton
Though this car comes with features built to last, it looks goods and comfortably seats a family with plenty of legroom and headroom.

Lincoln MKT Stratford
With all-wheel-drive, a v6 engine, and a back-up camera, the Lincoln MKT Stratford comes fully equipped to overcome any difficulties.

Cadillac XTS Heritage
This hearse elicits descriptions such as bold, big, and elegant. With its spacious interior and sloped outer design, the Cadillac XTS Heritage is bound to become an extremely popular funeral car in the near future.

Cadillac XTS Ambassador
The Cadillac XTS Ambassador Limousine offers space to mourn and grieve with a forward facing center bench seat and extra legroom. The overhead control panel and climate control system make for a comfortable ride for all mourners.
Contact Coachwest for Your Next Funeral Car
Coachwest has had funeral cars for sale for years and can answer any questions. We will direct you to the perfect model for your needs.